MAC Vegas Volt
is a bright, orange-coral with an amplified finish. The color is very rich and definitely oozes with this summery vibe. Just so you know, amplified finishes are very easy to wear and do stay much longer than most finishes that I've tried. I cannot say if it lasts longer than matte, though, since I do not own a matte MAC. Amplified never dries out my pucker, too!
MAC Vegas Volt in the flesh as shown with and without flash.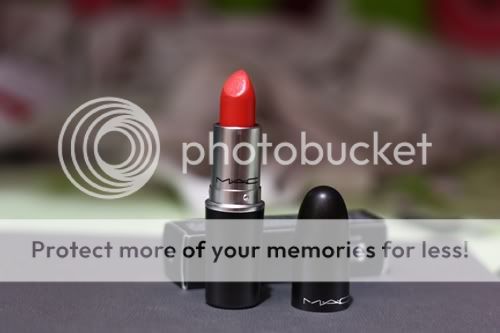 Vegas Volt when worn with and without flash.
I love this lipstick not only because of the finish (I am a sucker for amplified!) and color but also because it immediately brightens up (read: happiness) any face when you put it on.
I can compare this lipstick with the
MAC Toxic Tale
(from the Venomous Villains collection; limited edition). They are almost the same! It is just that Vegas Volt (left swatch) is much more of a coral/orange while Toxic Tale (right swatch) is pink/red. But both of them are equally beautiful in all aspects.